Dining
DESTINATION-FOCUSED DINING. Whatever your tastes, we believe dining is an important part of your journey. That is why we celebrate dining both on shore and on our ships. Our ocean vessels put the spotlight on fine dining in The Restaurant, which serves three full meals and the widest selection of culinary options. Our alternative restaurants, The Chef's Table and Manfredi's Italian Restaurant, feature regional cuisine and specialty dishes—so you have choices, not just in food selection but where and how you enjoy them.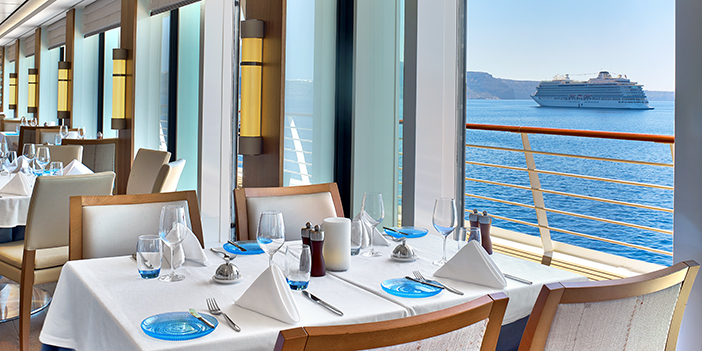 Dining Venues
Our ships offer many exciting dining choices, each with breathtaking views. From sophisticated regional dishes and chef's selections with wine pairings to rustic Italian cuisine and global fare, our venues offer the finest cuisine at sea.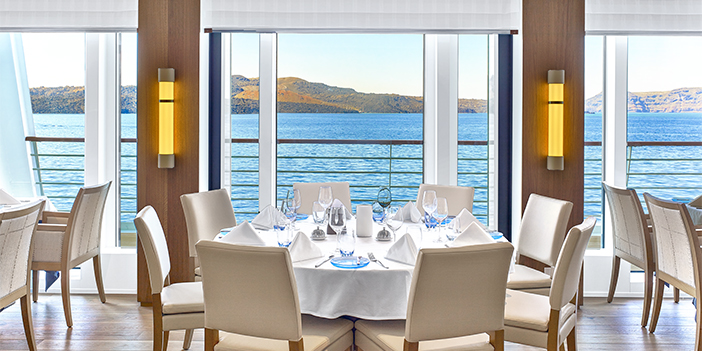 THE RESTAURANT. Our main dining venue, The Restaurant offers the highest onboard dining experience amid a clean and streamlined Scandinavian design. In an open and inviting atmosphere, breakfast, lunch and dinner are served with sweeping exterior views through all-glass walls—so your destination will always be close by. The menu includes regional cuisine and always available American classics enhanced with locally sourced ingredients, so you can explore new cultures through food.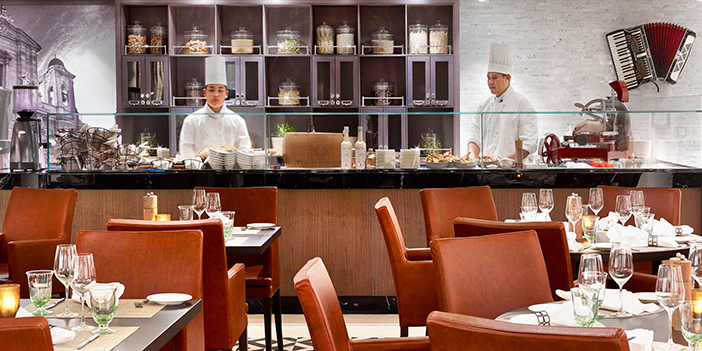 MANFREDI'S ITALIAN RESTAURANT. Manfredi's offers the best of Italian cuisine, whether the farm-inspired heartiness of Tuscany or the famed flavors from the heart of Rome. Subdued, ambient lighting creates a warm and welcoming air in this traditional restaurant, recalling Italy's beloved trattorias and a rich European heritage. Chianti by the carafe, freshly prepared pastas and generous antipasto are accompanied by fresh seafood and a true spirit of abbondanza. This restaurant's private dining room provides an opportunity to have an intimate meal with family, business colleagues or newfound friends.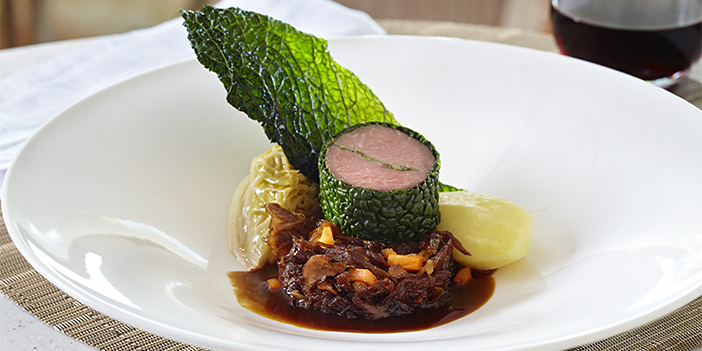 THE CHEF'S TABLE. The sommeliers and culinary masters at The Chef's Table create the perfect pairing of food and wine. During a multicourse tasting, they pour select vintages and serve thoughtfully prepared dishes made for each other. Drawing on the grapes and spices that have been enhancing gastronomic pleasures for centuries, your expert hosts will enlighten every sip and forkful with fascinating commentary as you experience a thrilling synergy of aromas and flavors. This restaurant's private dining room provides an opportunity to have an intimate meal with family, business colleagues or newfound friends.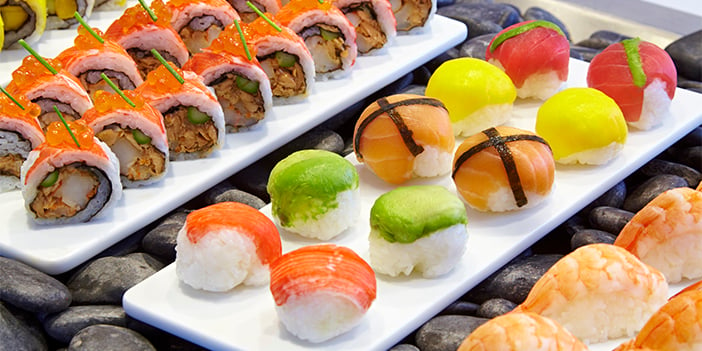 WORLD CAFÉ. With live cooking, open kitchens and buffet-style meal service, the World Café provides a vibrant interactive experience and a wide range of international flavors in a casual environment. Guests can choose their favorite foods—from the deli, the pasta or wok station, sushi bar or dessert station—prepared and presented in a stylish setting. Dine indoors or al fresco at shaded wood tables on the Aquavit Terrace, both offering stunning panoramic views.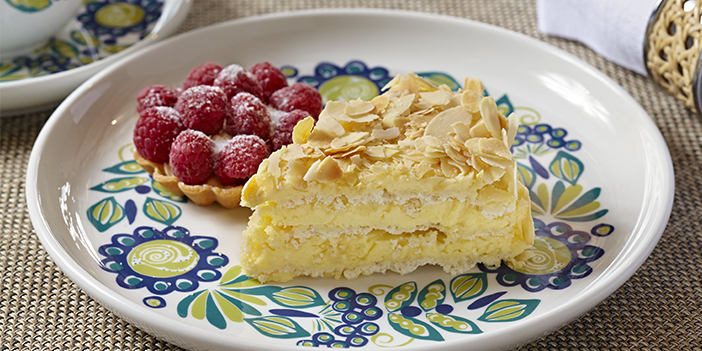 MAMSEN'S. Located in the Explorers' Lounge and named for "Mamsen," the Hagen family matriarch, this venue offers Norwegian specialties for breakfast, lunch, an afternoon snack or evening treat. The array of menu items includes Scandinavian pastries and cakes; waffles, according to Mamsen's recipes, served with either Norwegian goat cheese or jam; salmon gravlax and other open-faced sandwiches; and late-night split pea soup to warm the heart and soothe the soul.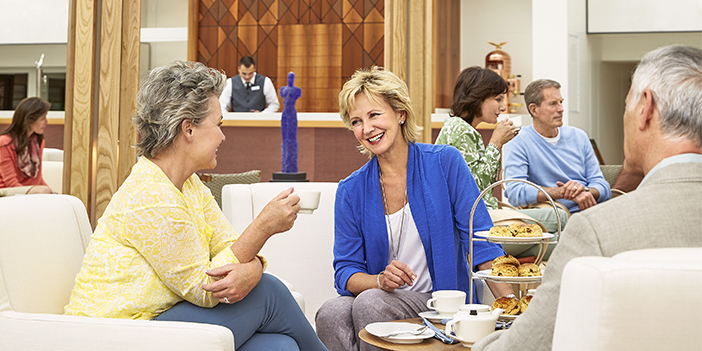 WINTERGARDEN. Late afternoon tea—that hallmark of English civility—is served in the Wintergarden. Freshly made finger sandwiches, richly textured scones and decadent desserts are presented on bountiful tiered carts, all from the kitchen of our masterful pastry chef. In this elegant space under a canopy of Scandinavian trellised wood, you can participate in a calming tea ceremony or indulge in an afternoon tea service while enjoying the soft strains of a string quartet. With a park-like setting and panoramic views, it's an inspiring respite after a day of exploration.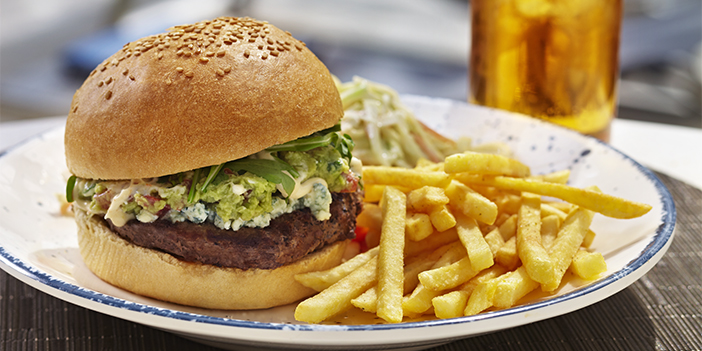 POOL GRILL. For a relaxed lunch or an afternoon snack, the Pool Grill serves casual fare prepared to order. Or for a lighter meal, a small salad bar is available. A condiment bar lets you customize your meal to suit your tastes with sides from grilled mushrooms to savory red-cabbage slaw. The poolside atmosphere welcomes lounging and leisurely dips in the water; the nearby Pool Bar offers regional cocktails.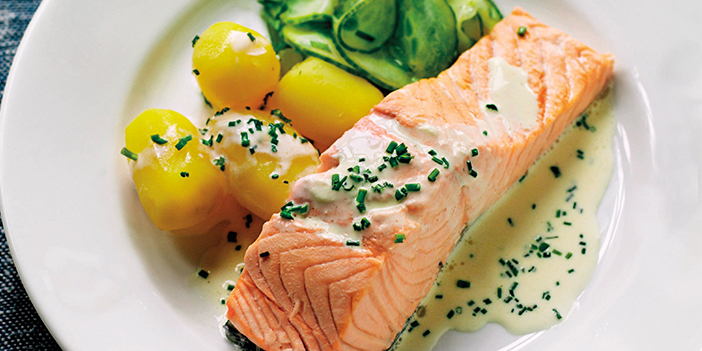 ROOM SERVICE. Care to enjoy a quiet dinner in the comfort of your stateroom? A midnight snack? Or perhaps breakfast in bed? For your convenience, we offer 24-hour room service, 7 days a week, with many of our signature dishes to choose from, such as the Chairman's favorite Norwegian poached salmon with cucumber salad or our classic Caesar salad.
THE KITCHEN TABLE. Immerse yourself in local culture and cuisine on an interactive culinary journey. At our onboard cooking school, experience firsthand how our ships' world-class chefs bring distinct, local flavors from market to table. On sea days, you'll learn to cook dishes highlighting an upcoming destination and take home recipes so you can savor the flavors at home. On port days, you'll handpick ingredients at a local market then learn how to prepare regional dishes and create elegant presentations for three courses. The Kitchen Table is a one-of-a-kind optional opportunity to shop, cook and eat with the masters.